Founder and Chairman NGO Uhuru4all
Abdul  Mumuni  Sidiq,  born in Accra- Ghana.  Resident in the United States.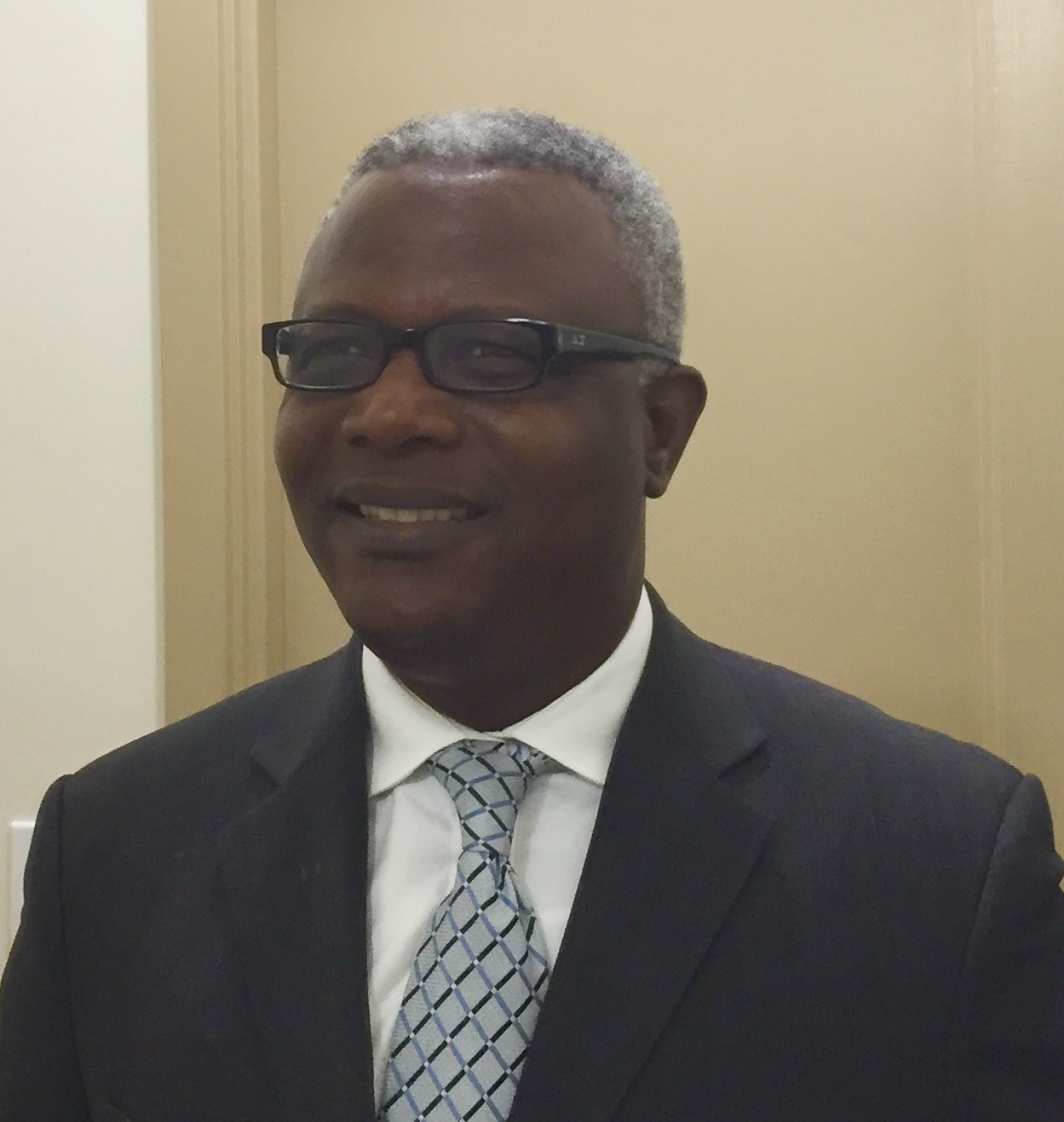 Studied at Accra Technical Training Center in Ghana, studied Business Management. He is an entrepreneur and likes to link up with like minded people.
His big dream, however, was to be able to set up a Center for Vocational Training to give young dropouts the opportunity to learn for a better future.
NGO'S Manager and Teacher of the Sewing workshop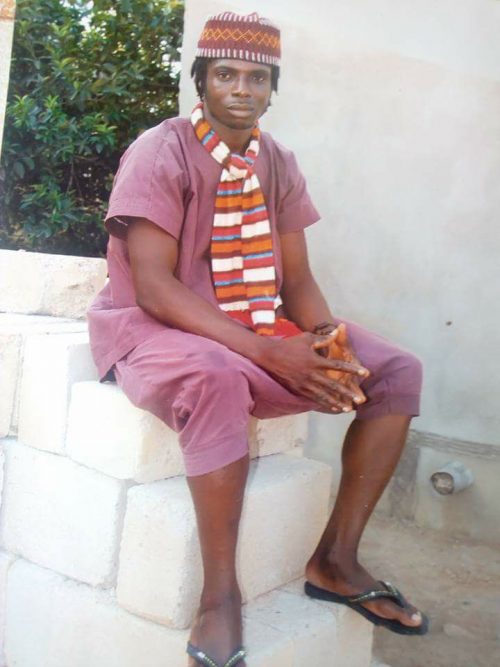 Daniel Anabire Ayamga born in Bolgatanga- Northern Ghana. He lost his parents at the age of eight years through accident.
After his primary school, he worked with a Nigerian pastor as a house help where he was able to improve his english language since the Nigerian couple couldn't speak the local Ghanaian language. They took care of him and enrolled him to be trained as a tailor at the age of 15. He was able to complete the training after four years and obtained his tailors certificate from NVTI after his training.
He teamed up with a friend of his, a shoe repairer and managed to open his own tailoring shop, within five years he was able to build a flourishing business in Dzorwulu -Accra. He unfortunately lost his business because the land on which his shop was located was sold, therefore he had to vacate the place. I (Mariette) met him around that time and asked to become the teacher of the second work shop of the NGO. He has since 2010 been the driving force and teacher for the sewing work shop.
A real self made man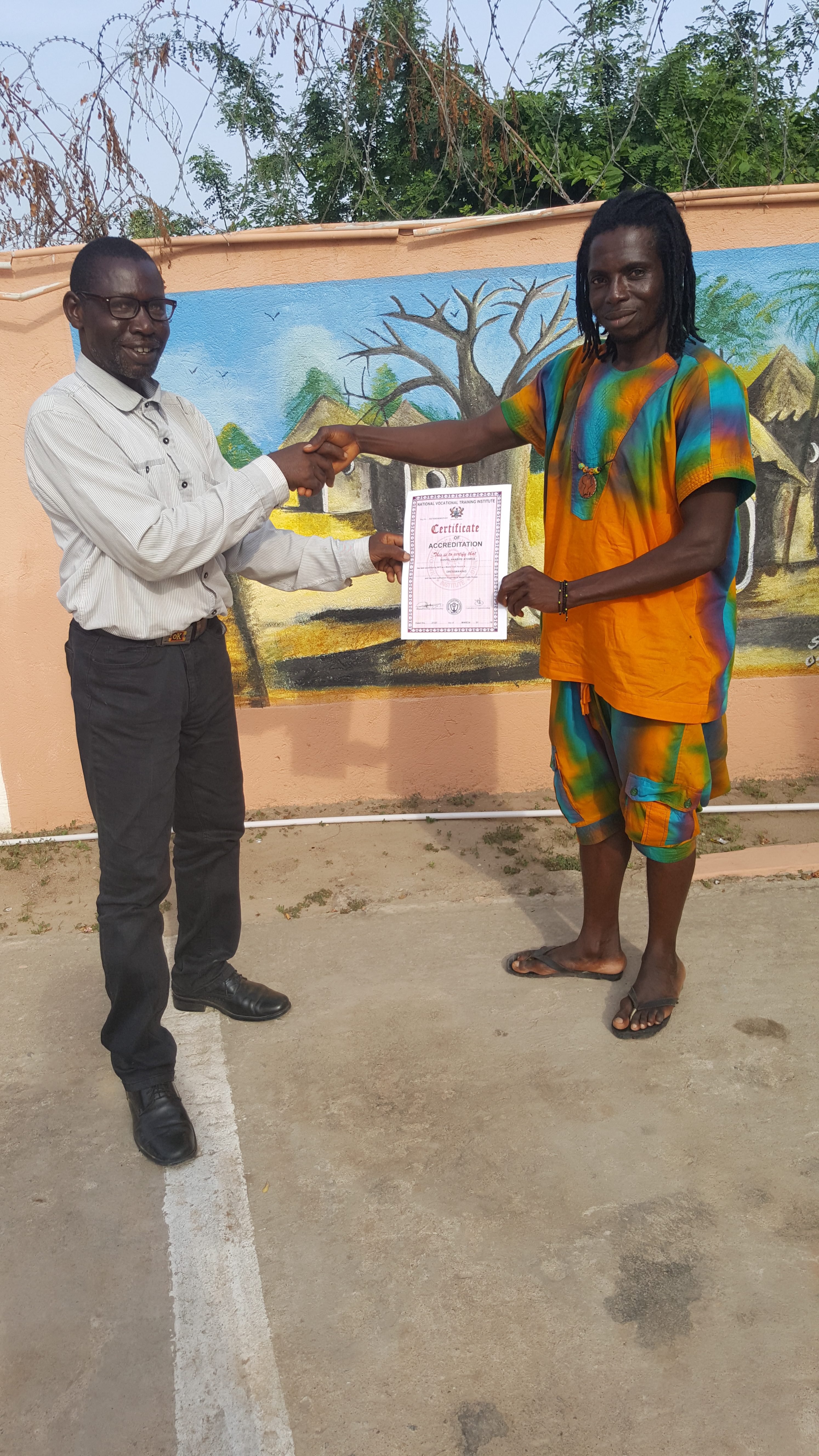 Congratulations of Mr John Konika, Regional Director of Informal Apprenticeship Department of the NVTI to the teacher of the sewing vocation Daniel Ayamga.
Daniel now can be called the Master craft person in dressmaking!
Founder NGO Uhuru4all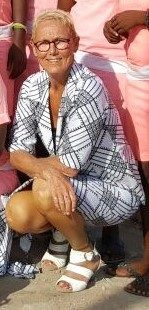 Mariëtte Deijen first came to Ghana in 2003.
She helped to build a school in Yaw Sae, which is 40 km from Sunyani with a number of Ghanaian
volunteers. One of the volunteers indicated that he was still training as a tailor with Idi Sidiq. Through Idi I came into contact with Mumuni and in 2007 the idea arose to set up a vocational training for the less fortunate young people from Ghana! It has been a long, hard way to get where we are now in the 10 years that the Foundation was set up! Thanks to the fantastic teacher Daniel and the orders of the Basic Care Foundation !!! Now we have arrived at the point of expanding the Foundation with multiple vocational trainings!
So here we go again!!!
Secretary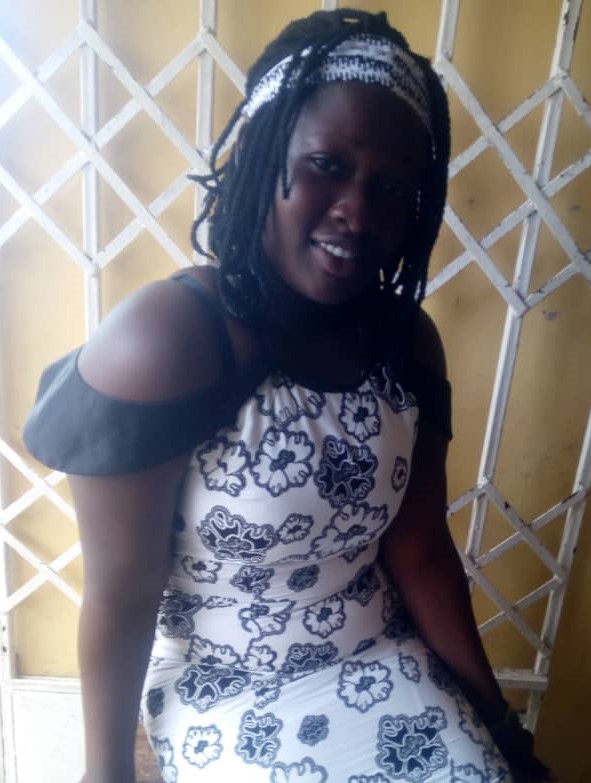 Ernestina (Tina) Amakour was born in Ada Lufenya in the greater Accra region. She did her primary school at Ada. In 2012 she moved to Team New Town to proceed with Junior High School. She wanted to become a nurse but unfortunately, due to financial problems, she needed to quit her ambition. Later she started selling cosmetics to gain some money since there was no help from any angle. Life wasn't easy for her. In 2018 an uncle introduced her to the NGO Uhuru4all under the training of Daniel Anabire Ayamaga. Her hope now is to become the best fashion designer of Ghana! 
Boardmember:
Naim Suleman was born in Obuase, Ashanti Region He went to the JHS for three years. When he finished he got a job as a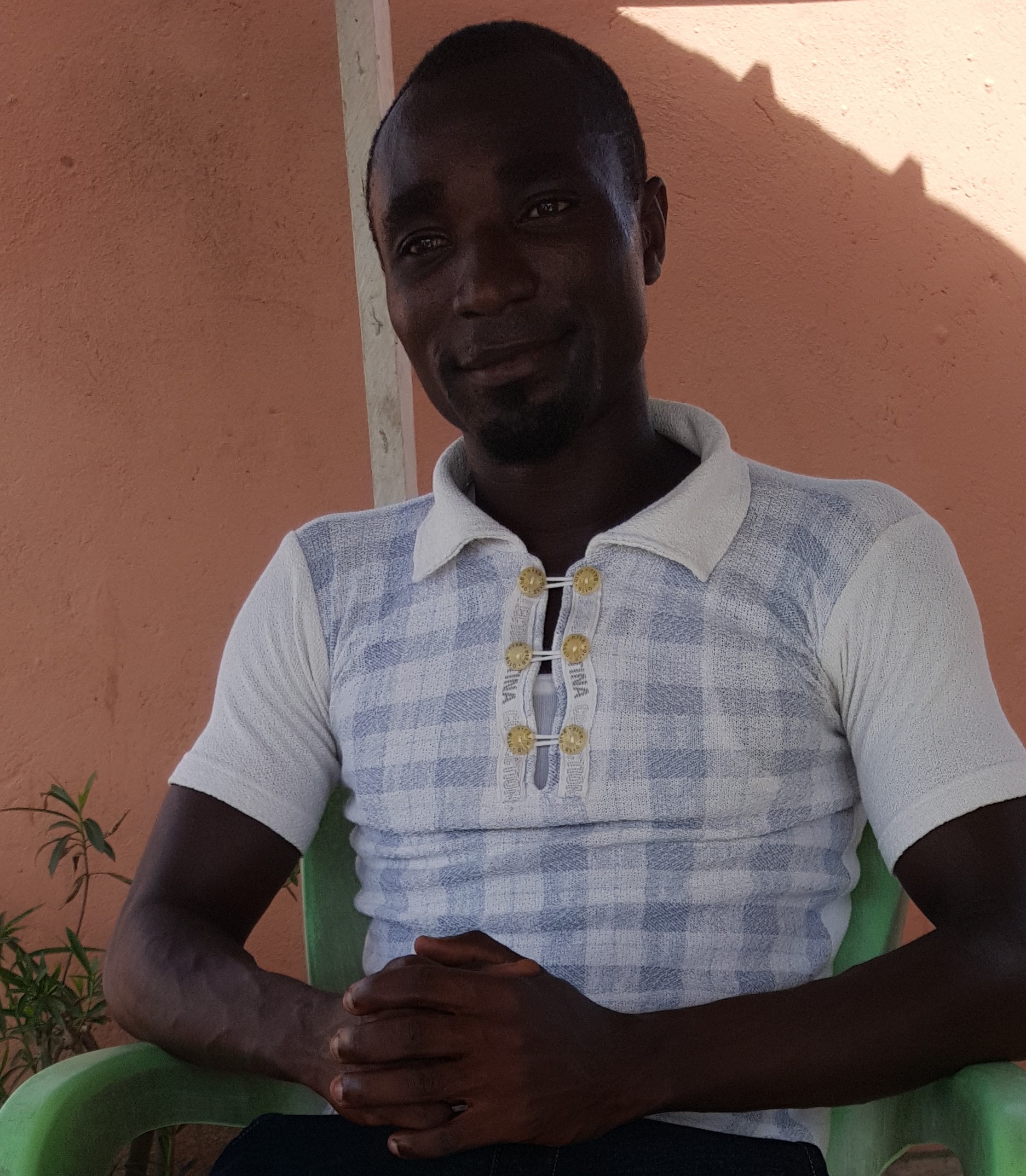 house help which he didn't like very much. Luckily his sister, who already is a seamstress, heard from the sewing vocation training of Uhuru4all. Sully, his nick name, always wanted to be a tailor and wanted to work with his sister. So in april 2015 -Sept 2018 Sully did the training and graduated!
Now he works with his sister in their shop!
Apart from tailoring he likes to dance…
Sully is also the senior assistant of Daniel in case something happens with Daniel. He is a very reliable assistant. Daniel can always count on him..
Boardmember:
Emmanuel Okyere was born in Dansoman and stayed with his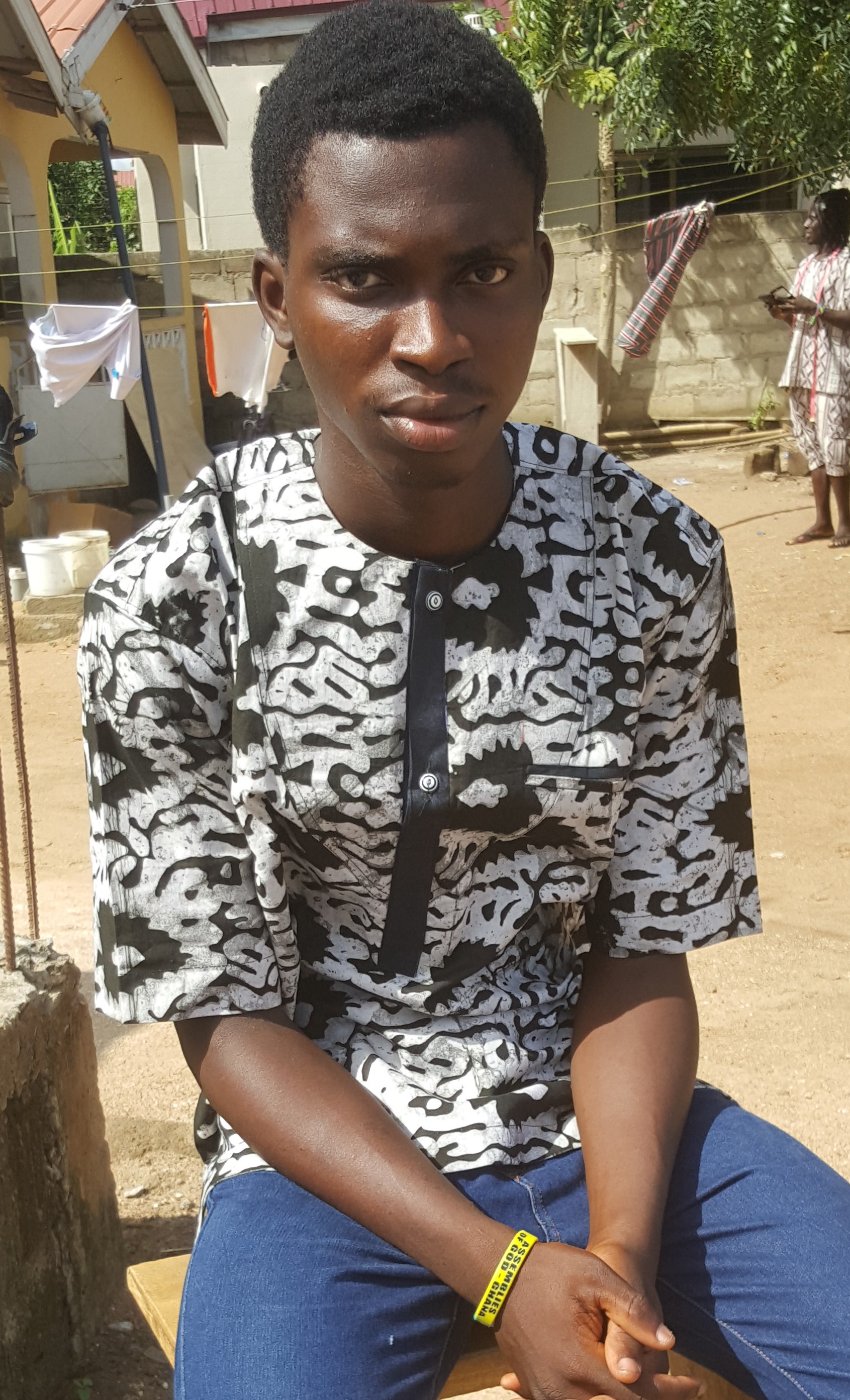 grandparents. He helped his grandfather sometimes with mason jobs.
He also went to JHS. In fact he really preferred to go to Accra Technical school to do Visual Art, but there was no money..
His mother who lives in Nyanyano, found out about the sewing vocational Training. That's how he started at The Uhuru Training the end of March 2018
We are really glad to welcome our three new Board members. A more firm Board where new ideas can be shared and discussed to bring the foundation to a higher level!